Oxytetracycline is a bacteriostatic ANTIBIOTIC with a wide spectrum of activity against Gram-positive (Cocci, Corynebacterium, Clostridia, Erysipelothrix, Actinomycetes, etc.) and Gram-negative (Escherichia coli, Salmonella, Pasteurella, Heamophilus, Brucella, Pseudomonas, Bordetella, etc.) microorganisms, Mycoplasmas, Chlamydiae, Rrickettsiae, some protozoa (Anaplasma, Leptospires, Spirochetes, etc.) and large viruses. It is absorbed from the injection site and penetrates into all the body organs, tissues and fluids, the placental barrier included. It is excreted in an active form in urine, bile, feces and milk.

Veterinary drugs are an essential component of animal husbandry and modern food production
Unovet is a wholly owned Sino-Foreign company, who has devoted to animal health and veterinary pharmaceuticals industries for 20years. Unovet is a G.M.P certificated manufacturer for animal drugs and approved by the Ministry of Agriculture of P.R. C, certificated No. (2009) GMP 223 .
10% Oxytetracycline Injection For veterinary use only
Broad spectrum antibiotic injectable solution.
COMPOSITION:
Oxytetracycline 100mg per ml.
INDICATIONS:
Oxytetracycline is an anti-microbial agent that is effective in the treatment of a wide range of diseases caused by susceptible Gram-positive and Gram-negative bacteria.
In cattle and goats,Oxy. Inj. is indicated for:
Pneumonia and shipping fever complex associated with Pasteurella multocida and Pasteurella haemolitica; Foot-rot and diphtheria caused by Fusobacterium necrophorum; Bacterial enteritis caused by E.coli; Wooden tongue caused by Actinobacillus Lignieresil;Leptospirosis caused by Leptospira spp; Anaplasmosis caused by Anaplasma marginale.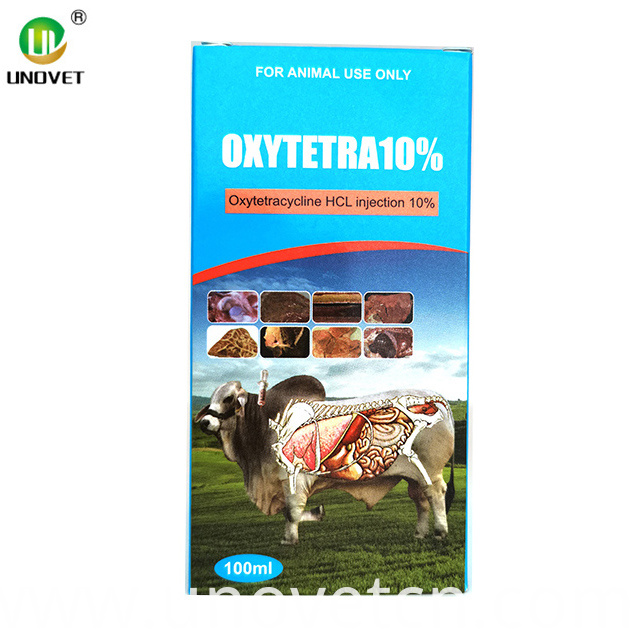 In pigs,Oxy. Inj. is indicated for:
Bacterial enteritis caused by E.coli;Pneumonia caused by Pasteurella multocida and Actinobacillus pleuropneumoniae; Prevention of atrophic rhinitis caused by Bordetella bronchiseprica and Pasteurella multocida; Leptospirosis caused by Leptospira pomona.
ADMINISTRATION & DOSAGE:
Intramuscular.
Cattle,pigs and goats: 0.5-1ml per 10kg of body weight, deep intramuscularly, for 3 to 5 days.
Dosage interval: 48-72 hours.
WITHDRAWAL PERIOD:
Meat:14 days. Milk:3 days.
STORAGE:
Protect from light,store tightly sealed in a cool(10℃-25℃)and dry place.
our products: disinfectants, anti-infective, parasitical, vitamins, growth promoters,anti-inflammatory, analgesics, feed additives and antioxidants, etc.
Looking for ideal 10% Oxytetracycline Injection Manufacturer & supplier ? We have a wide selection at great prices to help you get creative. All the 10% Oxytetracycline Long Acting Injection are quality guaranteed. We are China Origin Factory of Better Quality 10% Oxytetracycline Injection. If you have any question, please feel free to contact us.