Albendazole Suspension
Description :
Albendazole is a synthetic anthelmintic which belongs to the group of benzimidazole - derivatives with activity against a broad range of worms and at a higher level also against adult stages of liver-fluke.

Indications :
An oral suspension of Albendazole for the treatment of round worms , tape worms and flukes in cattle , buffaloes, sheep ,goats and camels .

Albendazole suspension protects livesstock against all major Nematodes , including ostertagia type I & type II and liverfluke infections . Also tapeworms in sheep .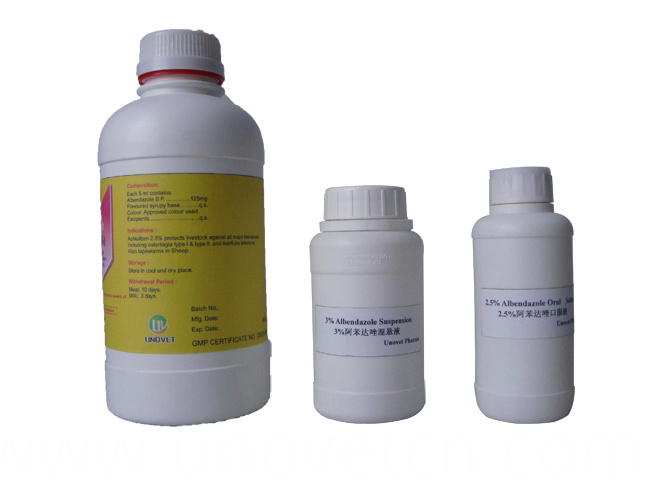 Prophylaxis and treatment of worminfections in calves , cattle, goats and sheep like :
Gastrointestinal worms : Bunostomum , Cooperia, Chabertia ;
Haemonchus , Nematodirus , Oesophagostomum , Ostertagia, Strongyloides and Trichostrongylus spp.
Lung worms : Dictyocaulus viviparus and D.filaria .
Tape worms : Monieza spp.
Liver-fluke: adult Fasciola hepatica .

Contra indications :
Administration in the first 45 days of gestation.

Side effects :
Hypersensitivity reactions .

Dosage of 3% Albendazole suspension:

Animal species
Round & Tapeworms
Adult Liver-fluke
Sheep/ Goats
5mg per kg b.w. or 4ml per 20kg b.w.
7.5mg per kg b.w. or 6ml per 20kg b.w.
Cattle/ Buffaloes/Camels
7.5mg per kg b.w. or 30ml per 100kg b.w.
15mg per kg b.w. or 60ml per 100kg b.w.


Withdrawal peroid :
Meat : 10 days
Milk : 3 days


Dosage of 15% Albendazole suspension:
For oral administration :
Goats and sheep : 1ml per 20kg bw
Liver-fluke: 1 ml per 12kg bw
Calves and cattle : 1ml per 12kg bw

Shake well before use .


Withdrawal period :
Meat : 12 days
Milk : 4 days

Storage :
Keep in a cool dry place away from sunlight .

Presentation : 100ml,250ml,500ml ,1000ml

Keep out of reach of children and uninformed persons .

Veterinary use only.
Unovet is a wholly owned Sino-Foreign company, who has devoted to animal health and veterinary pharmaceuticals industries for 20years. Unovet is a G.M.P certificated manufacturer for animal drugs and approved by the Ministry of Agriculture of P.R. C, certificated No. (2009) GMP 223 .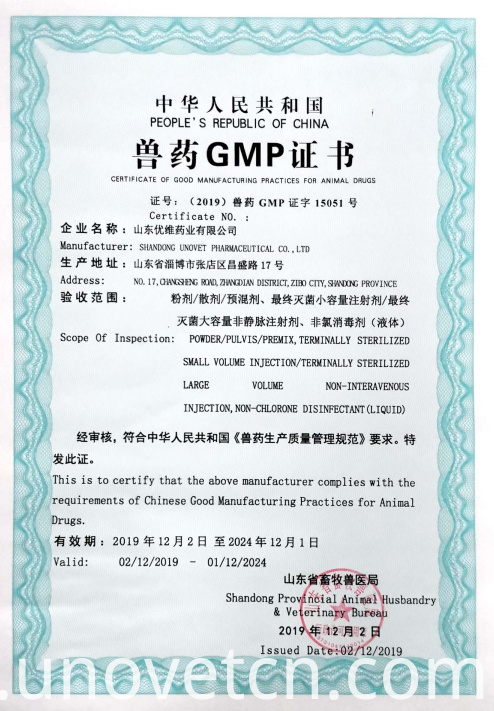 our products: disinfectants, anti-infective, parasitical, vitamins, growth promoters,anti-inflammatory, analgesics, feed additives and antioxidants, etc.

Looking for ideal Albendazole Suspension 2.5% Manufacturer & supplier ? We have a wide selection at great prices to help you get creative. All the Vet Albendazole Suspension are quality guaranteed. We are China Origin Factory of Albendazole Suspension for Animal. If you have any question, please feel free to contact us.